My husband and I went on a trip to Central Asia and Turkey for work so we decided to  take a chill vacation afterwards in Greece. A week in Greece was just enough time to start getting to know the culture, food, and history. Greece is one of those places I've always wanted to go.. there's something about the beautiful islands and the architecture that drew me in. A huge bonus was Mediterranean food which I could eat every day!
In this post I'll give an overview of our [very loose and unplanned] itinerary, costs, and give a couple recommendations on what to see and do in Paros. Starting at the mainland to the islands Greece is stunning!
If you want to learn more about our stay in Athens, you can read it here. If you want to watch our attempt to vlog the trip, you can watch that here.
Since we flew to Greece from Turkey our travel agent found a round trip flight for the two of us for $153!! Little tip: use different sites to research for the cheapest flight if you choose not to go with a travel agent. I use Cheapoair and Google Flights to check prices. We used a travel agent since they are almost free and I am a horrible planner.
We first got our agent to book a flight from Istanbul to Mykonos and stay there the entire time. This was a big mistake. Once we began looking at prices of hotels we realized that Mykonos was out of our price range. Every hotel or AirBnb charged over $150 per night! 
Because of this, I decided to change our stay to a different Greek Island. I wanted to go to a place with few tourists, but still adventurous things to do. The more I researched, the more I learned about Paros!
Paros was the perfect island for us to spend the majority of our time. It didn't have much night life, it is super chill, and not packed full of tourists! Once we chose Paros, we booked a flight from Istanbul to Athens, and decided to stay there a couple of nights and then catch a ferry ride to Paros!
Day 1
We rode on the ferry to get from Athens to the island. We really enjoyed the Ferry. We actually got tickets for around $40 and snuck into first class since they don't check.
The ferry ride was much longer than we expected, taking about 3 hours! In my opinion, a ferry is the best way to get to the islands because it is much cheaper.
Once we arrived to the island, we met our Airbnb host. She was amazing! She walked us to our cute studio apartment, gave us a few treats, and told us about the town and the excursions we must do!
Here are a few pictures of the studio: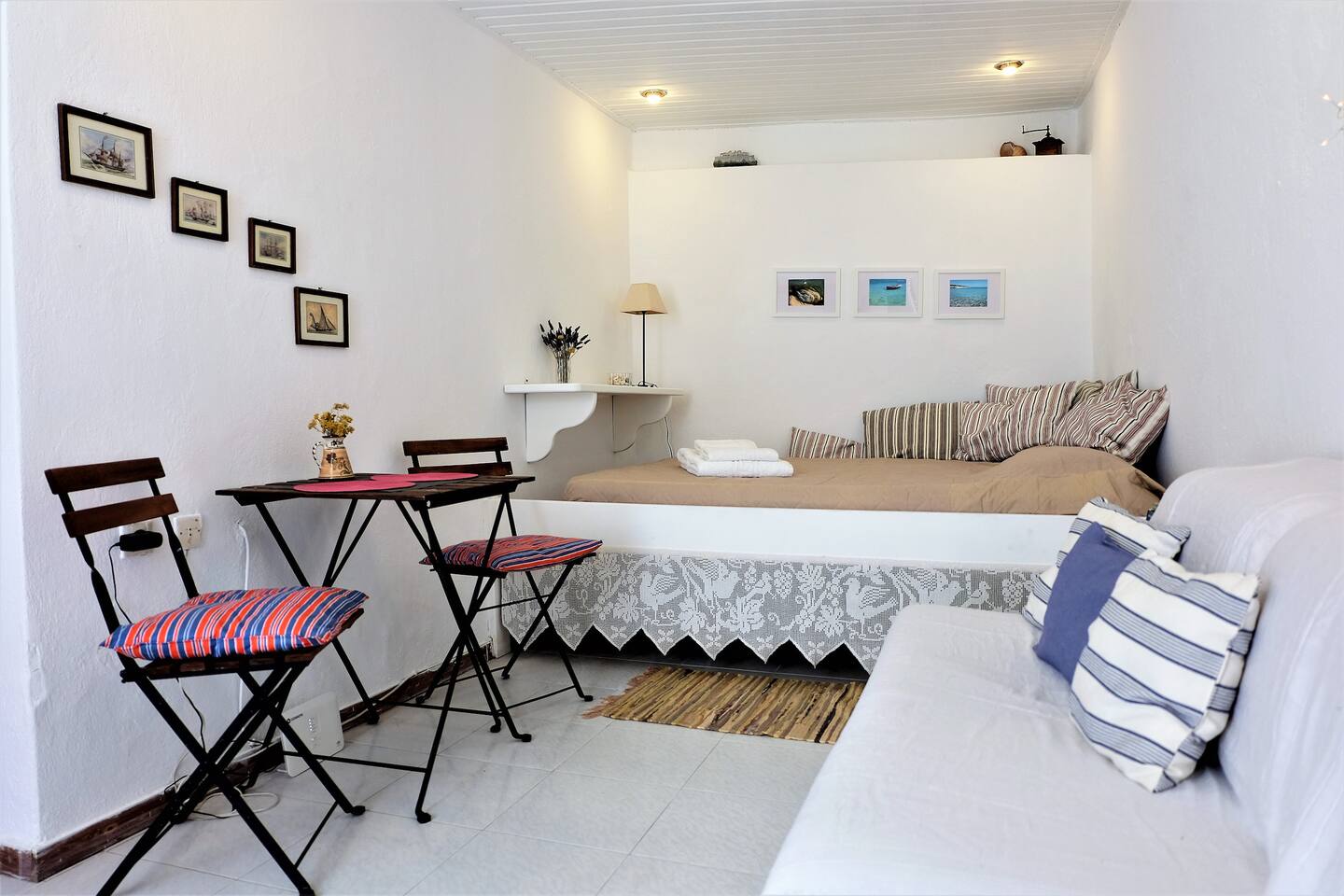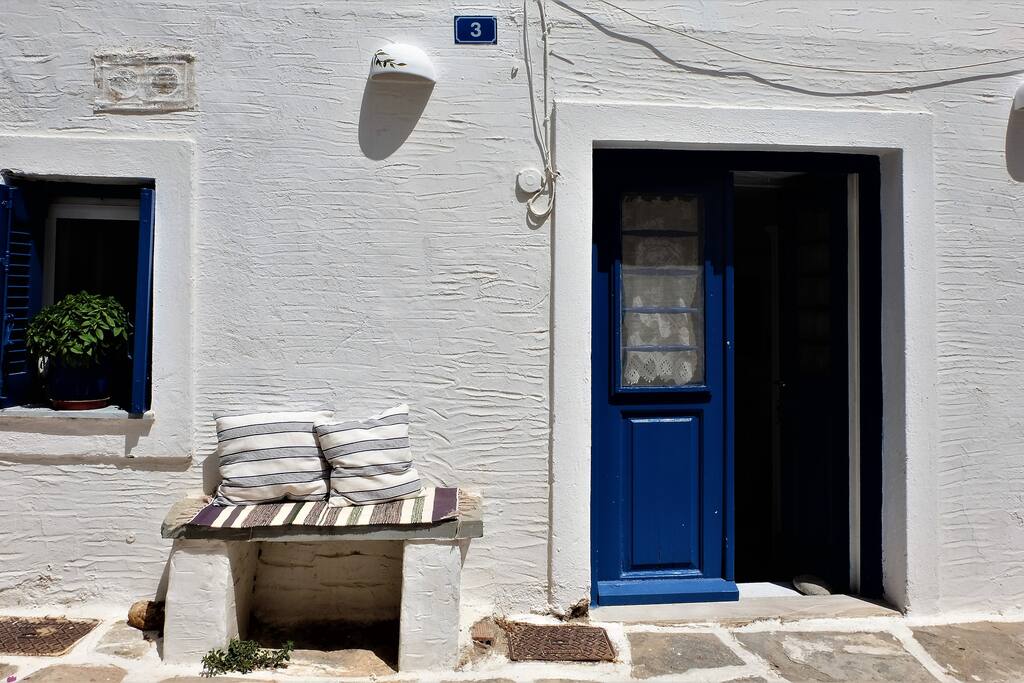 After talking with our host, we ate at restaurant called Delphi and began to walk around and explore the town! I immediately fell in love. It was so romantic and quiet. When we ate dinner we were the only two in the entire restaurant! The owner even gave us more food to sample. 
We quickly realized everything is cheap in Paros (after all, our Airbnb was only $40/ night in the middle of Parikia town). All we had to do was walk out our door and we had an amazing view of the church and a wonderful sunset every night!
Day 2
We basically just hung out at a nearby beach and roamed the beautiful streets for hours. That night we had dinner at sunset and saw a concert! The concert was in a small bar with about 15 people! There is always something going on so I recommend asking locals for fun things to do. 
Day 3
We took the most amazing day cruise with Regaki Tours! This was a 7 hour cruise to Antiparos, an even smaller island nearby. The cruise included snacks, food, and snorkeling gear!  The cost per person was around 55 euros but we got a discount from our Airbnb host!
Day 4
We wanted to go visit a small village in the middle of the island called Lefkes (all the locals said it was worth the drive). We looked at so many ways to get there and the best option was a shuttle bus! Unfortunately, you can no longer rent a scooter in Greece unless you have a European license. So we got on the bus and accidentally ended up on a beach called Pisa Livadi. The bus was a bit of a struggle because the driver didn't know English and we couldn't read the signs. 
However, it all worked out because this beach was absolutely STUNNING! It was my favorite beach because there were boats and beautiful cliffs all around! We ate lunch and walked around there for a few hours:
Afterward, we were determined to go to Lefkes so we hopped back on the bus and communicated to the driver that we had to know when we arrived. Since the village is located in the middle of the island it was so hot! Totally worth it though because no one was there. We felt like we were the only people walking around in the town!
In my opinion, Lefkes is a must! It has beautiful architecture and it is definitely the place to go if you want to find affordable hand-made souvenirs. 
Day 5
On this day we took a ferry to the other side of the island to another nice beach. The small boat ride was only 2 Euros and definitely worth it for the secluded beach with chairs and umbrellas.
As much as we love adventures, we love chilling out more! We really wanted this trip to be relaxing and that's exactly what it was.
I also have to add that the sunsets are AMAZING. We watched the sun go down every evening. 
Day 6
We took a long walk to a beach that we saw hidden under the cliffs. It even had this ancient little church built inside the cliffs and we were all alone!
Recap + Quick Tips:

Paros has so much to offer for everyone– you can be alone if you want, you can do touristy things, or you can be adventurous and hike or stay near the villages.

Off season (Spring, Fall, and early Summer) is the best time to go. There are less tourists and the prices are more affordable. 

Flying into Athens and taking a ferry is definitely the most affordable way to go.

Stay at an island other than the ones you've heard of! I always wanted to go to Santorini and Mykonos but I heard they were too busy in the Summer. I am thankful we didn't go! All the locals told us they were both overrated and touristy. 

AirBnbs and hostels are your BFF. They are cheap and they allow you to feel more like a local.
Enfp.
24 year old.
Mother of an adorable puppy.
Wifed up to the coolest husband.